Registration – CLOSED AT THIS TIME
Next shoot: 17-18 March 2023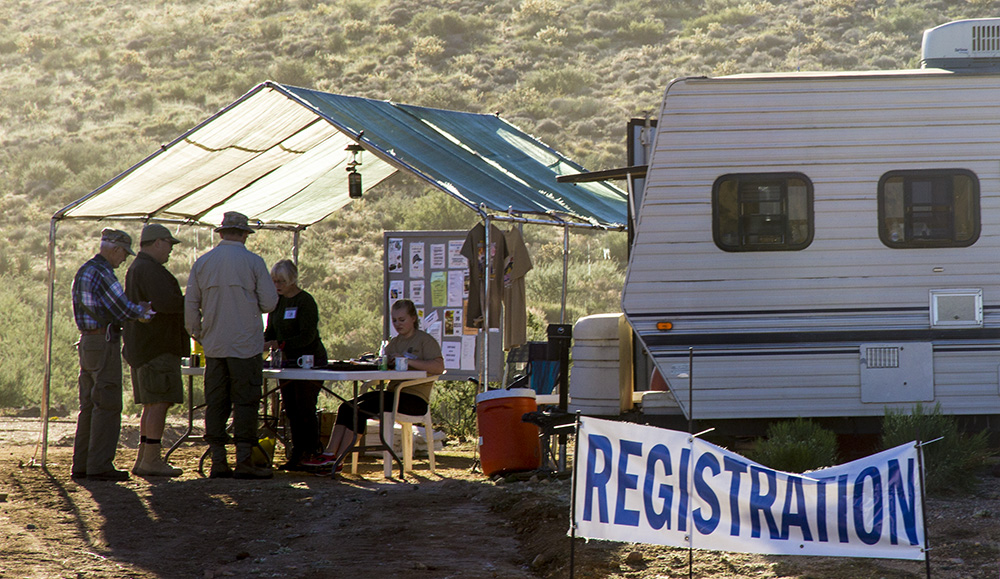 2023 Shoots
17-18 March 2023
20-21 October 2023
The Big Sandy shoot requires an entrance fee and registration. During the off season (months in-between shoots), you will be unable to register or pay for a shoot. We open registration approximately 60 days prior to a shoot and this page will be updated with the form and online service options.
If you are a spectator, there is no pre-registration. Just pay at the gate.
Be aware there have been social media "ticket" scams. There is no way for a "ticket broker" to register for the shoot and then transfer that registration. Same for the spectators. There are no "tickets" to buy. You arrive and pay at the site. Don't be scammed into some type of pre-sales, outside of this website or our direct mail/email. If you have any questions on the legitimacy of a sale, contact Kenton at 602-327-7933 for confirmation.
Please keep in mind that Sunday has a morning target mop-up shoot. Sunday is NOT a full day. We pride ourselves in our effort to provide everyone with a safe place to shoot, have fun and visit with their fellow machine gun shooters.
---
Prices
Prices subject to change
EARLY REGISTERED SHOOTER $325 Early Registration, before due date
SHOOTER FULL PRICE $350 at the gate
Family Shooters Package $1000 Family of 4 – See below
CANNON SHOOTER $325 $350 at the gate
CANNON HELPER $175 $200 at the gate
VENDORS $150 Non shooting space, $175 at the gate
VENDORS + SHOOTER $475 Vending on the fireline
SPECTATOR $35, No pre-registration, pay at the gate and have fun!
MATCHES $30 Fee for one or all available matches
If using a credit card, a 2.5% service fee will be charged
Fee Details
FAMILY SHOOTERS DISCOUNT – MG shooters supports family activities and encourages families to enjoy the Big Sandy. The package is for family members- which would include spouse and children, 21 years old or younger, all shooting on the same spot, using the same RV parking. Family group pricing:
Family of 4: $1000 Family of 3: $800 Family of 2: $600
Cannon fee is $325 per shooter, with helpers being $175. Registration at the gate is $350 (Cannon shooter) and $200 (Cannon Helper) with line position based on space available moving towards the west side of the line. The gate to the property opens at 0730 hrs (7:30am) and locked at 22:00 (10pm). Camper side outs can not extend into the adjoining spaces. For updates about the shoot, check out the homepage or contact the managers directly for special situations via about us.
Shooters can usually get spaces on the line on the day of the shoot. First come, first served basis, with spots on the west side made available. If the line sells out, MG Shooters LLC may be able to pair you with another position. Space is not guaranteed.
Matches
Matches are back. Registered shooters pay $30 for one or all the matches. New are cash prizes! 1st place is $50 and second place receiving $25. Spectators are also welcome to join in for the matches, sign up at the gate.
Matches for FALL 2022
M1 Garand
Subgun (Thompson or any submachine-gun)
Assault Rifle (Any
Spectators
Spectators do NOT pre-register for the general shoot. When you arrive at the range, please stop at the registration camp for entrance fees ($35 ea) when you arrive on site. Exception: Spectators will pre-register if they are interested in any of the matches or training classes.
---
Shooter Questions?
Kenton Tucker 602-327-7933
Spectator Questions?
Julie 928-266-6566
Gun Rentals During the Shoot?
Matt Tallarovic 928-221-7451